Most of you already know what I've been upto lately. But since i'm extremely bored (more on that later) here is a blog post.
I left Canberra on 20 July (Incredible I know!) for a trip to Perth to attend the Australian Earth Sciences Convention (AESC). The conference was held in the Exhibition centre near the river. The flight took over 4 hours. Australia is big!
Bronze statues of kangaroes in Perth.
I quite enjoyed the conference as there were many interesting talks and the fact that several people from RSES came too. I think we went out every night, sometimes to a restaurant or at other times straight to the pub :P.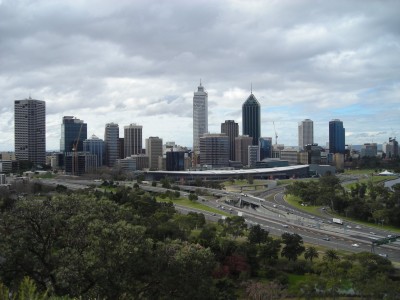 Exhibition centre (long building in front) and Perth's skyscrapers.
I tried some of the local beer and found Swan Draught quite alright. I was warned not to try Emu beer. Apparently it's worse than Victoria Bitter! As for a good lager, Tooheys extra dry is really nice but that's not a WA beer. The beer that really proved to be a winner is Little Creatures. One night out we took the train to Fremantle (Freo) and headed for the Little Creatures beer brewery. That was fantastic! They served serveral varieties of the beer. I hadn't tried the amber ale variety and quite liked it. Somehow that night it also became known as "Roger that" beer…heh heh. As a matter of fact, it turned out that there was a beer called Roger but I don't recall having tried it.
Little Creatures beer brewery in Freo.
On the last day it was my turn to give a talk. I came after my supervisor which in the beginning made me a bit nervous. However, when I went up the stage it was rather convenient actually because it meant I didn't have to explain the complicated features of the seismic wave attenuation apparatus. So I finished within the allotted time and there were a few questions. Unfortunately, it was the last day and there wasn't much of an audience left. Not that it really mattered. I got some good praise from my colleages from RSES.
After the conference I remained in Perth/Fremantle for another few days. I met some former study mates from Utrecht and we had some good nights out. On Saturday I went with a colleague from RSES (he was the only one besides me who thought it was a good idea to hang around for a bit to explore Perth) to Rottnest Island. It's a sandy island just off the coast of Perth/Freo. We only stayed for 4 hours but it was well worth checking out.
Rottnest Island. Perth can be seen in the distance.

On Sunday I had a relaxing day in Freo exploring all that there is to see. Fremantle is an old town for Australian standards. It was founded by settlers in 1829. One of the most interesting things it has to offer is the old Prison. It was in use until as recently as 1991 and is one of Australia's oldest prisons. The tour was just over an hour and most intruiging.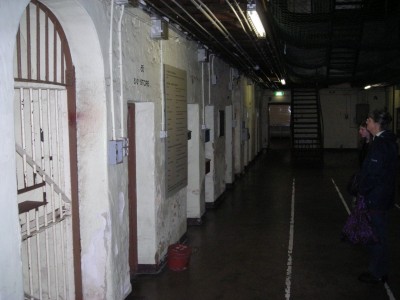 The old Fremantle prison.
On Monday morning I took the Greyhound Australia coach to Cervantes. This small town (if a collection of summer houses can be called a town) is on the west coast about 3 hours drive north of Perth. The weather was stormy with frequent heavy showers and strong winds. That didn't mean the sun wasn't around and I had a great three days there.
The coast and outback near Cervantes.
On the second day I took a tour to the famous Pinnacles. The geological formations were most interesting. Turns out that the pinnacles are remains of precipitated carbonate rocks in a sandy dune environment. Features such as fossilised roots and tree trunks can easility be observed in them. The pinnacles formed underground as water leached through the soil. Due to pH changes the dissolved calcium precipitated at a certain level in the ground along the roots of the trees that grew there. This happened repeately during the various ice ages. Now the trees are all but gone and only scrubs remain.
The pinnacles.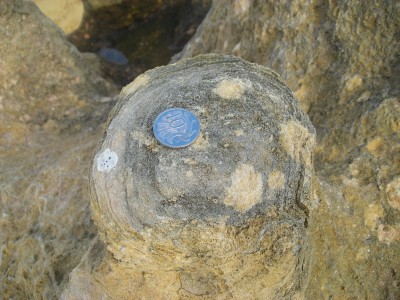 Fossilised tree trunk.
I travelled back to Perth on Wednesday arvo and met up one last time with my mates from the Netherlands. On Thursday midday I flew back to Canberra and arrived in the evening. Back to the cold and rain of Australia's coldest city. Oh well, I had a great time!